Indefatigable Old Boys, are invited to attend the following event and ceremony.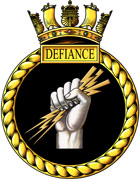 INDEFATIGABLE CUP WINNERS for 2016:
T.S. DEFIANCE – NEWHAVEN & SEAFORD (UNIT 442) SEA CADET CORPS – Win the ELEVENTH Indefatigable Trophy.

It gives us the greatest pleasure to congratulate 'T.S. Defiance (Newhaven and Seaford SCC)' on being awarded the Indefatigable Cup in its eleventh year, the Indefatigable Cup for 2016 (awarded 2017).
For SCC Unit HEAD-COUNT:  Please indicate to me (Steve Humphries) if you wish to attend this event <steve_c_humphries@btinternet.com>.
Venue: Old Church Chapel Street, Newhaven, East Sussex. BN9 9QD
Date: Friday 2nd June 2017
Time: Arrive at 18:30 – In time to carry out formal parade and Inspection for 19:15. till approx. 22:00 (times TBC).
Dress Code: Mess Uniform / Suit.
IOBA Chairman (Andrew Butler 77/78) will be travelling to the Unit to make this very special presentation to Heather Wells CPO (SCC) Commanding Officer of 'T.S. DEFIANCE the 'Indefatigable Cup', known once as the 'Merseyside Navy League – Swimming Gala Trophy', and a monetary award on behalf of the IOBA.
The Unit made sustained progress throughout last year 2016, with an effective training programme and the taking part of District and Area events. This has required huge effort and commitment and they thoroughly deserve the award.
The Sea Cadet unit was awarded a Burgee by the Captain of the Sea Cadet Corps 'Captain Phil Russell RN',  the Burgee is the highest award that can be awarded to a Sea Cadet Corps Unit in recognition of the hard work of the Volunteers, Cadets and UMC.
Citation:  After a poor year in 2015 achieving only 59 points and no award, TS Defiance has pulled together and concentrated on establishing themselves again, delivering high quality training and fun for the cadets. They have worked incredibly hard and have made substantial gains across the board. The standard of dress and bearing is always a good indicator of unit performance. The Cadets are proud of TS Defiance, they are smart and represented the District at the Drill and Piping Area Competition. A significant step forward in boating hours has been achieved with an increase of 22% to 36 hours / cadet, which is excellent. Paddle-sports accounts for approximately half the hours with the remaining spread evenly across rowing, sailing and power. The unit has appointed a new Boats Officer and gained improved access to the river, which will continue to have an impact. It is especially pleasing that the unit has worked extremely hard to achieve qualifications and has doubled its success rate. It is also encouraging the unit is to engage the DofE and BTEC award processes and has signed cadets onto both schemes. Recruitment is good and increases in both BJ and Juniors has been achieved equating to an overall increase of 11%. The unit recognises they are still at 78% capacity and have an active programme of developing the Cadet experience in parallel with increasing overall numbers to achieve their goal of 100% + capacity next year. Having an extremely effective and productive training officer, the unit has maximised the use of District, Area and National training assets which broadens the horizons of the cadets, achieves qualifications and improves the overall cadet experience. The unit is also actively involved in the local community and attended fetes, festivals, appeals, dinners and the normal parades and ceremonials. A good cross-section of events that maintains the interest of the cadets and is valued by the community. The infrastructure of the unit is rather old and difficult to maintain, however there is a solid plan being driven by an energetic Chairman who has a clear vision for the unit. The unit has benefited from good leadership and management both from uniformed and UMT personnel, who have worked well together. Overall, TS Defiance has worked incredibly hard to ensure a solid foundation for the future has been achieved. Their improvement from 59 points last year to 78 ( Burgee awarded) this year is truly remarkable. With a clear plan for the future, their journey is by no means at an end and they are very strongly recommended for the TS Indefatigable Cup award being the most improved unit in the Southern Area.
Web: http://www.newhavenandseafordseacadets.org/
Affiliated to: HMS Defiance.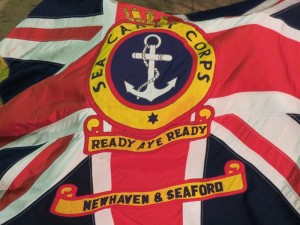 Indefatigable Old Boys Association (IOBA): Secretary & Archives
©www.indeoba.com 2017
Reunion for Seafarers stranded in the Suez Canal 1967 – 1975
SIX DAY WAR CREW SOUGHT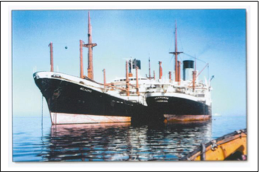 Merseyside Museum commemorates Suez Canal anniversary:
Merseyside Maritime Museum is looking for former seafarers who were on a stranded ship on the Suez Canal between June 1967 and June 1975 to attend a special 50th anniversary reunion at Merseyside Maritime Museum on Thursday 1 June 2017.
14 merchant ships were stranded in the Great Bitter Lake in the Suez Canal at the start of the Six-Day War between Israel and Egypt in 1967. They were trapped there for eight years until Egypt reopened the canal in 1975. Four of the ships were British flagged, including three from Liverpool shipping lines: MS Melampus and MS Agapenor from Blue Funnel Line, and MS Scottish Star from Blue Star Line. The fourth British ship was MS Port Invercargill of the London-based Port Line.
Though the original trapped crews were replaced after a couple of months, over the years around 3,000 seafarers served on the ships, helping to maintain them and their precious cargos, right in the middle of a war zone. The period was the height of the Cold War, the ships may have come from both sides of the Iron Curtain, but as Ben Whittaker, Curator of Maritime History and Technology explains, it didn't stop them forming their own 'United Nations'.
"The ships were going nowhere, over time camaraderie grew between the crews irrespective of their country of origin. Inspired by the part of the Suez Canal they were stuck in, they established what was to become a unique community; the Great Bitter Lake Association".
"They shared supplies and equipment, as well as created a full programme of sports fixtures and other social activities. The seafarers even produced their own hand-made stamps, which are now sought after collectors' items". The move to appeal for ex-crew was inspired by author Cath Senker, whose forthcoming book on the subject features material from the Blue Funnel Line Archive which is held at the Museum, as well as images of objects from the museum collections related to the Great Bitter Lake Association. These include a commemorative plate and home-made trophies that were awarded to the winners of the competitions held on board the ships during the 8 year long saga. Ben says; "We want former crew to get in touch and join us on 1 June to share their stories and reminisce. Many members remember their time in the Suez Canal as one of the most significant of their entire lives. Through the internet, many of them have now renewed contact with each other, and interest in this unusual story has been revived. With Liverpool ships and men part of the story, Merseyside Maritime Museum is the right place to hold the reunion".
If you or a family member were on one of the stranded ships on the Great Bitter Lake during the Six Day War and want to share your story and be part of the reunion, contact Ben Whittaker. Telephone 0151 478 4401 or email <ben.whittaker@liverpoolmuseums.org.uk>.
Indefatigable Old Boys Association (IOBA): Secretary & Archives
©www.indeoba.com 2017
The IOBA can help our less fortunate members, so that they are able to attend the 2017 AGM & Reunion: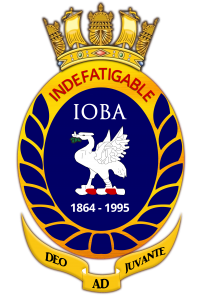 Guide on the parameters and criteria to be applied;
Applicant to be decided by the serving IOBA committee.
Maximum Award to be £300. Nominees will be asked to submit an approximate overall costing to justify.
To include; UK Travel expenses / Accommodation / Reunion Dinner & Bar.
The Committee have set the following guidelines;
1) £300 max.
2) Must be a fully paid up member of the IOBA.
3) Not previously been to an AGM under the terms of this proposal.
4) Committee to decide on the IOBA Member to attend (along with a second choice in case the offer is declined).
5) Martyn Hunt 82/85 to coordinate.
The IOBA can help members, but I must stress at this point, your 'application will be decided by the serving IOBA committee'.
If you would like to take up the offer, please write/email to:
Less Fortunate Members Representative.
Contact: 3 Ironstone Walk. Burslem, Stoke-On-Trent. ST6 4AA
Mob: 07881741440
 One Award for 2016 was given.
© www.indeoba.com 2017
 
34th Annual IOBA Reunion Day
09:00-16:00.
This will be held at the Old School again at JSMTC Indefatigable. SATNAV address Llanfairpwll. Anglesey – LL61 6NT

34th Annual IOBA Reunion Dinner
Reunion Dinner 19:30-23:59.
This will be held at the Carreg Bran Hotel. SATNAV address, Church Lane Llanfairpwll Anglesey – LL61 5YH

As of today's date registered total guests attending are 0/100.  For the Reunion Dinner, there are 0/100 confirmed attendees sitting down for dinner.

Friday 9th June – Vibrant Shirt Night: In memory of the late 'Spencer Bell 1958 – IOBA Chairman' at the Carreg Bran Hotel, all in aid of Prostate Cancer & Wendy's page.
Saturday 10th June – Reunion Day at JSMTC Indefatigable.
Saturday 10th June  – Annual IOBA Reunion Dinner at the Carreg Bran Hotel.
The IOBA 34th Reunion PayPal web page will be OPENED for Lunch and Dinner bookings March 31st 2017 (PayPal charge will be + £1.50).
*LAST BOOKINGS, SUNDAY  28th MAY 2017.
Agenda for Reunion Day:

Parking at JSMTC is a premium, please 'lift share' wherever possible

.

The 34th DAY Plan: 10/06/2017
08:00 – 09:00 Meet at Carreg Bran Hotel for initial check-in.
09:00 – 09:30 Down to JSMTC Indefatigable Introduction from IOBA Chairman in the Lecture Hall (Assembly Hall).
09:45 – 11:30 IOBA AGM in the Lecture Hall (Assembly Hall).
11:30 – 15:00 JSMTC Main Building open to tour at leisure.
11:30 – 15:00 Nuffield Sail Centre (Boathouse) OPEN – Lounge facility.
11:30 – 13:30 IOBA Shop OPEN (JSMTC Main Building).
12:00 – 14:00 LUNCH (£15 per person) JSMTC Main Building & CASH BAR open.
15:30 – 16:00 IOBA Members to be off site JSMTC.
The 34th EVENING Plan:
17:00 – 18:00 St Mary's Church open.
18:30 – 19:30 Meet for Drinks at Carreg Bran Hotel.
20:00 – 23:59 Seated for the 34th Reunion Hot Carvey Dinner (£27 per person) at Carreg Bran Hotel.
Evening Wear:
Smart dress code.
Click here for accommodation : Self catering apartments, family run B&B's, Farmhouse Bed and Breakfasts, Hotels, Lodges and Chalets, Campsites, Touring Parks and Yurt & Tipi Campsites.
Attendees List for the Indefatigable 34th Reunion: For the Reunion Dinner there are a maximum of 100 place's in total for the Reunion Dinner  = 0 confirmed attendees for dinner (date), 0 = total attendees over the day, see list of who's attending below will be posted 'here';

Indefatigable Old Boys Association (IOBA): Secretary & Archives